Dear customer!
Hereby we inform you that our partner YX-Norge opened new stations in Norway.
All stations are excellently located for heavy transportation:
YX Burfjord: 9161 Burfjord
YX Skjåk: Skjåkvegen 1212, 2690 Skjåk
YX Truck Gadermoen: Vilbergveien 142, 2050 Jessheim
YX Truck Berger: Gneisveien 8, 2020 Skedsmokorset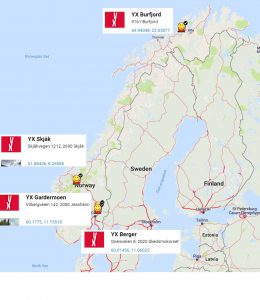 For refuelling in Norway it is necessary to have YX fuel-card.